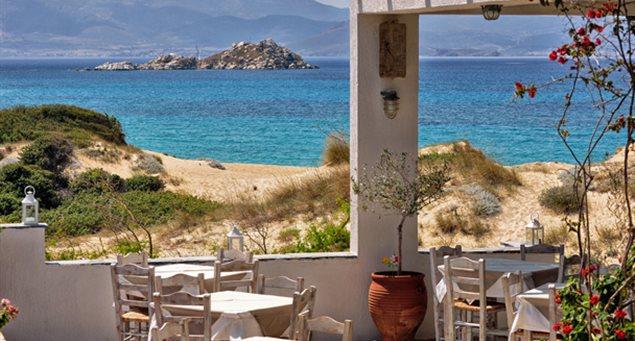 The story of Kontos Restaurant in Naxos, started in 1986 when Antonis and Maria Salteri started the little tavern on the sandy beach of Mikri Vigla for the very few travelers who made their way there, seeking for a peaceful and authentic beach in Greece, away from the crowded cities .
Maria was not a professional chef but she was very familiar with the flavors of Greek traditional cuisine and the local Naxian specialties that she was taught by her mother. Antonis was not an experienced farmer but he learned to grow all kinds of vegetables and groceries with organic methods and the "old way. Today, Kontos Restaurant, continues to offer homemade Aegean and local Naxian specialties made by original, traditional recipes using the most fresh ingredients cooked in virgin olive oil. Our groceries' garden is located just a few meters from the restaurant. Next to our garden is also located our organic wine yard, were our homemade wine and "raki" is produced. These reasons and the beautiful location, established Kontos Restaurant one of the best restaurants on Naxos Island.
The high standards of the restaurant of selecting the raw materials and the respect to tradition and quality have established Kontos Restaurant over the years as one of the finest in Aegean and Greek cuisine. In 2007 and 2012 the Greek National Tourism Organization certified us with the "genuine traditional and quality Greek cuisine" award.
1st of May to 15th of Octomber, daily 12:00 – 24:00
Mikri Vigla
22850 75278 22850 75228
info@kontos-naxos.gr
http://www.kontos-naxos.gr
| | |
| --- | --- |
| Parking | On the North bay (Parthena) of Mikri Vigla beach, spacious private parking area, 150m from the bus stop. |
| Accessibility for wheelchairs | Yes |
| Credit cards | Yes |