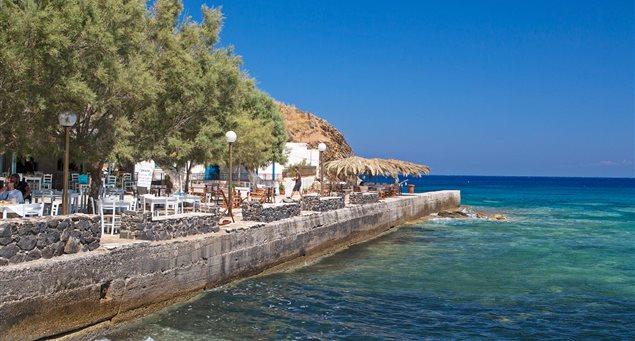 All settlements on Naxos' eastern coast are considered as outlets to the sea of the village of Apiranthos,and properties are overwhelmingly owned by its residents.  Moutsouna, the largest of them all, lies in the island's only natural harbor and is a picturesque hamlet with a sizeable number of rooms-to-let and fish tavernas lined along the beach.
The place also features the installations of the old cable railway that was used to transport the emery from the mines of Koronos to the sea up until the 1970's.
The southbound coastal road leads to the smaller hamlets of Ligaridia, Kanaki and Klidos and their beautiful beaches.
Ligaridia and Klidos represent Apiranthos' main animal farming areas. In between them, Kanaki, with the enchanting beach of Psili Ammos, has an agrotourism facility, attractive tavernas and cafes.
The road ends at the sheltered Panermos harbor, with an attractive sandy beach. On the hill behind the cove are the remains of the prehistoric acropolis of Amygdalies.
| | |
| --- | --- |
| Directions for access | An asphalted, downhill and winding road from Apiranthos leads to Moutsouna. An also paved, southbound road from there will take you to the hamlets of Ligaridia, Kanaki and Klidos before ending at the harbor of Panermos. |