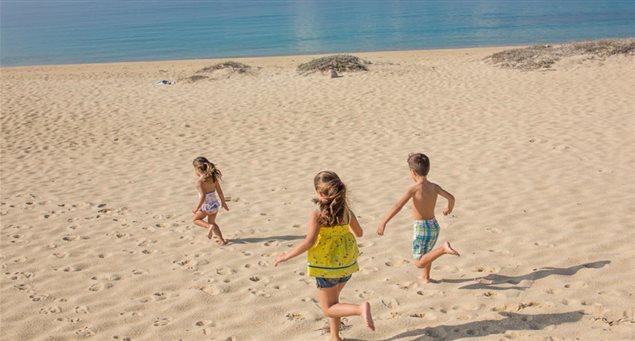 Naxos, and Greece in general, is a family-friendly vacation choice as children are always welcome to be part of the holiday fun. Ideal for kids are the island's many safe, sandy beaches and crystal clear waters that make for perfect sandcastle making conditions.
Naxos's ancient monuments and castles serve as the perfect backdrop to get the kids inspired. School children and adults, too, are always amazed to learn about the mythical legends and see ancient temples and columns they have read about in storybooks up close.
And that's not all.
In the summer, Naxos's cultural and activities calendar features swimming and sailing lessons for kids as well as various arts workshops, exhibitions and theatrical performances.


Take the kids to Naxos for a fun-filled family experience of sun, myths and sandcastles!


Our top 10 things to do with the kids on Naxos:
Go to the beach and make a sand castle!
Take windsurfing or kite surfing lesson with trained professionals
Go horseback riding
Learn about the myths and legends behind the island's many archaeological sites such as Temple of Apollo, Temple of Demeter, the "Gulliver-like" Kouroi
Visit the water park
Inquire about a mountain bike trail for kids at one of the island's bicycle shops
A visit to the Geological museum in the village of Apiranthos (in the summer)
Take in one of the many cultural performances scheduled in the summer especially for kids
Inquire about sailing and swimming lessons available for kids in the summer
Partake in one or several of the cultural workshops for kids (music, folk art, and more that are organized each summer)