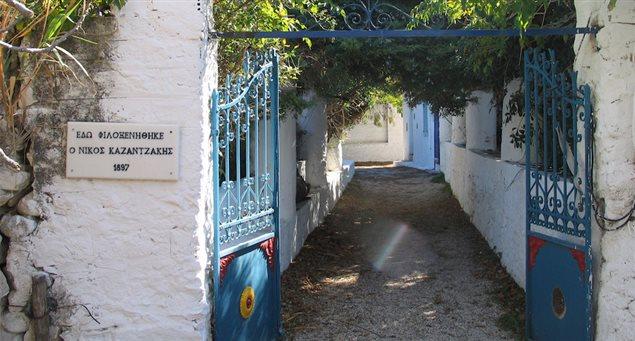 Nikos Kazantzakis is perhaps the most important writer and philosopher of modern Greece.
A prolific novelist, poet and playwright, he is best known for his works "Zorba the Greek" and "The Last Temptation of Christ," which have been turned into films. He is the most widely translated modern Greek writer.
Kazantzakis was born in Iraklio, Crete in 1883, where he completed his secondary education before going on to study law in Athens and attend graduate studies in Paris. He was a friend and close aide of statesman Eleftherios Venizelos, but also became a strong supporter of Russia's October Revolution. After World War II he was energetically involved in Greek political matters.
Kazantzakis traveled widely and was influenced by a broad number of thinkers. In his diary, he mentioned French philosopher Henri Bergson, Homer and Dante as his "tutors".
His relationship with the Greek Orthodox Church was turbulent, as excerpts of his books "Captain Michalis"and "The Last Passion of Christ" earned him charges of sacrilege and blasphemy. He was threatened with excommunication but this was averted thanks to an intervention by the Patriarch of Constantinople, Athinagoras.
He was proposed three times for the Nobel Prize for Literature and twice for the award of the Norwegian Writers' Association, but never by the Academy of Athens. He died in Germany in 1957 and finally rested in his birthplace, Crete.
Besides "Zorba the Greek," "Captain Michalis" and "The Last Temptation of Christ" his other prominent works include "The Greek Passion" (published as "Christ Recrucified" in the UK), "Report to Greco," "The Saviors of God" ("Spiritual Exercises" in Greek), "Toda-Raba" (in French) and the vast epic poem "The Odyssey: A Modern Sequel," which he considered to be his most important work.
Between 1897 and 1899, Kazantzakis attended the French School of Commerce in Naxos (housed in what is now the Archaeological Museum), where his family sought refuge after the outbreak of one of the many revolts against the Ottoman rulers of Crete. In his "Report to Greco" he described thus the beauty and euphoria which Naxos inspired in him, with a special mention of Eggares:
"This island was such a blessing; tranquility, innocent faces, melons by the pile, the peaches, the figs, the calm sea. I would gaze at the people, never did these folks get a fright from a quake or a Turk, their eyes had nothing fiery about them. Freedom here had quenched the thirst for freedom, and the happiness of life spread wide like sleeping water. If it ever was disturbed, it never became turbulent. Security was the first gift I sensed while wandering about Naxos –security and, after a few days, boredom. We made an acquaintance with a wealthy Naxiot, Lazaros, who kept a wonderful grove in Eggares, an hour from Chora, he invited us, we stayed two weeks. What abundance, the trees laden with fruit, what bliss! Crete became a tale, a distant fiery cloud. Never a scare, bloodshed and struggles for freedom, everything melted and dissolved within this sleepy bliss of Naxos…"