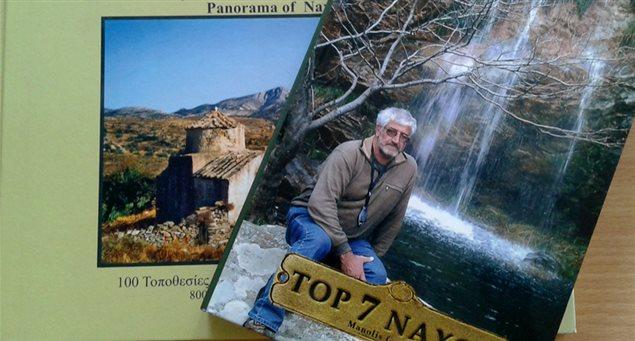 OManolis Santorineos is a civil servant whose hobby is taking to the Naxian mountains, valleys and villages and documenting the island's treasures. Since his quest began in he has trekked through 50-60 trails and identified, photographed and mapped 620 churches.  And that's not all.
He has also taken note of other significant sights, monuments and natural wonders of the island: towers, little churches, churches in ruins, forts, arches, springs, bridges, waterfalls, windmills, beaches, monuments and a lot more, enough to publish a book.
And he did.
Having compiled a whole lot of information, Santorineos in 2010, published Top Seven, a photo essay of sorts that groups his trekking knowledge into 36 categories, each section highlighting — with photographs and short summaries — what he considers to be the top seven.
We spoke to him an asked him the very difficult task of sharing with us his top picks of seven categories that we chose for this article:
Byzantine Churches
 – The Church of Agioi Apostoloi
"It's a beautiful church. One a kind on Naxos. It's two-level. Inside there are 12 separations, one for each Apostole. Those who want to visit inside should seek out the priest of Tragea for the key."
Towers
- The Fortified Monastery of Fotodoti

"It's one of the oldest of its kind. Seek out the priest of Danakos for a view of the interior."
Picturesque Little Churches
 – The Church of Agios Ioannis Theologos 

"Located just outside of Grotta, towards Moni Christostomou, this area has three churches named after a St. John, thus the area called St. Johns' or Agios Ioannides. This church is located inside a rock and the area around it offers breathtaking views of Naxos, the port, Paros and the vast blue sea."
Castles 
- The Castle at the village of Potamia

"On the hilltop of Potamia, the views from there are breathtaking."
Fountains – The Fountain at the village of Danako
s
"It runs all year, and it is one of the most beautiful spots on the island. Also note: the fountain (Vrisi) of Arion. At the foothills of Mt. Za, it is considered to have the best water on the island."
Bridges
 – The Bridge at Galanado

"The marble bridge of Galanado was built in the late 1800s from Naxian marble."
Waterfalls
 – The Waterfall at Routsouna
"At 21 metres, it is a wild force of nature."