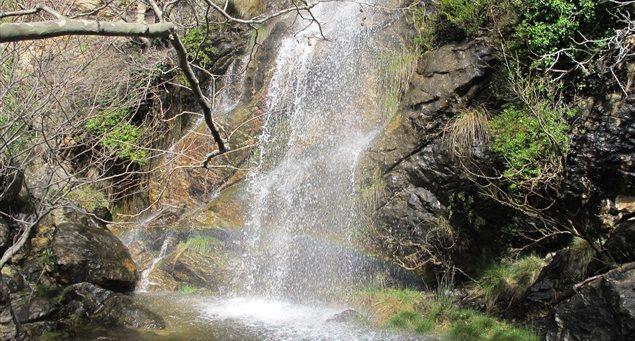 Routsouna waterfall, a spectacular 20-meter plunge, is the result of two important streams that run north and south of Keramoti. 
Their origins are located on the mounts of Koronos and Fanari, respectively. The two rivers converge at the western edge of Keramoti, at a point named Dipotamata.
Continuing its flow through rocks and rich vegetation, the stream unites with a creek running from Kanafato create the Routsouna waterfall.
A plane tree is rooted at its base, while a lake of considerable depth offers a delightful swimming basin for Keramoti's youngsters during the summer months.
From here, the water continues its flow all the way to the valley of Eggares which it irrigates before reaching the sea, at Ammitis beach. The area's water, which maintains its flow even during the summer months, creates a nature-rich green locale that differs greatly from standard Cycladic settings.
| | |
| --- | --- |
| Directions for access | A track offering uniquely beautiful scenery begins near the old Keramoti bridge and leads to the waterfall. |
| Accessibility for wheelchairs | Not accessible for wheelchairs. |