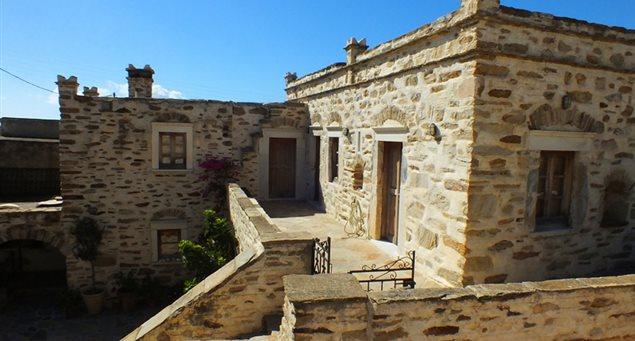 Built on a fertile plateau in Naxos' west, the village of Sagri is one of the island's most picturesque villages.
The name of Sagri gets its name from Sainte Croix (French for Holy Cross – or Timios Stavros in Greek), as the nearby monastery, one of many sights in the region, is named in French. 

The archaeological site Gyroula, featuring its recently restored Temple of Demeter, is the wider region's most significant sight.
It is located just four kilometers from Sagri.
Besides the surrounding sights, the village itself – comprised of Ano ("Upper") Sagri and Kato ("Lower") Sagri (a listed and protected settlement)– is well-known for its superb architecture. It is worth visiting the impressive former monastery of Agios Eleftherios in Ano Sagri.
Its tower-like church, which served as a school during Ottoman times, nowadays houses the Folklore Museum. The remains of two Venetian towers may be seen at Kato Sagri.
A third, Paleologos Tower, dating back to 1699, now restored, is located close to the village, about twenty minutes away.
The area's Byzantine churches are also noteworthy. Highlights include Panagia (Virgin Mary) Orfani, next to Paleologos Tower, Panagia Arkouliotissa, Panagia Kaloritissa, Agios Artemios and Agios Nikolaos, amongst a host of others.
The current population at the village numbers roughly 300.
Farming and livestock farming, primarily cattle, are the main vocations here. Cafes and tavernas offering homemade-quality food as well as local delights operate at the village.
The village of Sagri hosts annual traditional feasts  on the Assumption of the Virgin Day, August 15, July 1, Agii Anaragyri Day; and November 8, Taxiarchon.

The district is graced with renowned beaches such as Orkos and Mikri Vigla, ideal for windsurfing and kite surfing enthusiasts, Kastraki, Glyfada, the wonderful sandy beach at Alyko, and the superb juniper forest.
| | |
| --- | --- |
| Directions for access | Sagri is located 11km from maintown Chora and is connected to the main road network. |