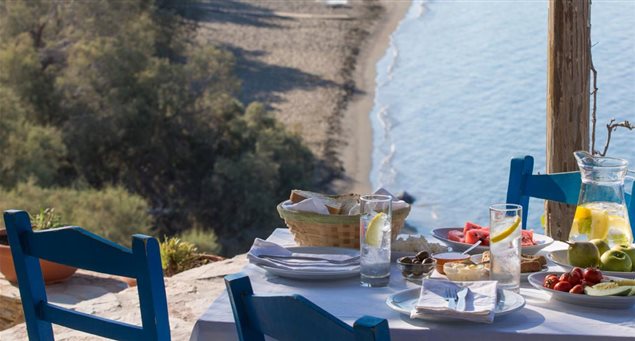 Ruggedly romantic, Schinoussa is an island with an interesting history and of natural beauty with nature paths that lead to its many inlets that make for easy beach hopping.
Schinoussa's fava is considered one of the region's best.
In recent years, Schinoussa is becoming a hotspot for rock climbers and a top pick amongst those in the world of sailing and yachting; thanks to its naturally-protected marina.
During Ottoman rule, Schinoussa was deserted and became the property of the Chozoviotissa Monastery, on the neighboring island of Amorgos.
After Greek independence in the 1820's, the monastery granted the right of settlement to some families from Amorgos to cultivate the land. The island's present inhabitants are mostly descendants of those settlers.
Today, Schinoussa is enjoying a revitalization evident by the secondary school on the island and increase in tourism.
Basic Info:
Access from Naxos*:
Year round
[*Please note: schedules/timetables are subject to change. Please contact your travel agent and/or the airline/sea transport line for the latest schedule information. Please note: Peak season usually begins from the Greek Orthodox Easter holiday, late Spring and continues to early Fall – mid October]
Local ferry, Express Skopelitis (approximately 1 hour 50 minutes)- except Sunday
Ferry line 3x per week (approximately 1 hr and 20 minutes)
Location: Northern most island of the Cyclades, east of Naxos, north of Amorgos
Size: Average Area of 8.5 sq. km
Population: Approximately 225 (permanent residents)
Number of Beaches Accessible by Foot/Water Taxi: 2
Claim to fame: Τhe main cove, Merssini, considered one of the best small boat shelters in the entire Cycladic region΄rock climbing
Must-eat: The award-winning fava (chick pea spread)
Take-home souvenir: Fava beans (chick pea beans for purée)
Interesting to know: The island has a helipad
Best time to go: Late May-September