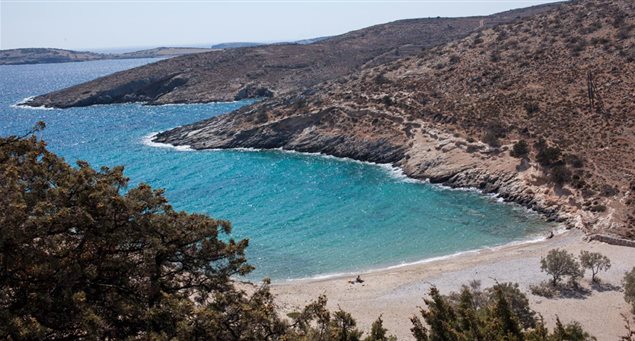 Schinoussa offers beach-hopping options galore! The somewhat circular jagged-edged coastline of this small island (8.14 km²) means that there are lots of beaches and coves in which to enjoy, and, discover!
Most beaches on Schinoussa are just 400 metres to 2km (0.8 miles) from the main town known as Chora or Panagia.
All are reachable by foot or car/jeep.
Keep in mind that the roads on Schinoussa are mostly dirt roads, with the main asphalt road getting you from the port of Merssini to Chora and Chora to the settlement of Messaria.
South of Naxos, Schinoussa lies in between Iraklia and Koufonissi with Keros nearby and Amorgos, southeast, in the distance.
According to people who live on the island, there are well over 20 beaches on Schinoussa, that is, counting the many secret little coves and "beaches just for two." Here we provide basic info on the 7 must popular beaches to visit. (And we'll leave the secret beaches of Schinoussa, a secret for you to discover …)

#1 Psilli Ammos, a relatively small beach, just 60m wide, is one of the beautiful spots on the island, noted for its turquoise waters, white sands, sand dune, and few tamarisk (salt cedar trees) known as almyrikia offering natural shade. Also: views of Amorgos island. Keep in mind, located on the northeast, it may get a bit windy when there is a northerly wind summer wind known as meltemi. 
Access: Via the 2.8km asphalt road from Chora and 450m dirt path from the settlement of Messaria, where there are two taverns.

#2 Tsigouri
Located on the southwest side of the island, just a few minutes and metres (450) from Chora, Tsigouri is one of the island's most popular beaches. Made up of two bays, it is the largest beach. Lined all along with tamarisk (salt cedar trees) known as almyrikia there is, according to natives, plenty of natural shade. Away from the main road, it is also popular for families with children. The beach bar is a hotspot as is the taverna located just above the beach. Its location means that it is usually protected by the summer northerly winds known as meltemiα. Views to neighboring isle of Iraklia. Don't miss:The sunset. And, at night from the tavern the views of Santorini and Ios in the distance. 
Access: Via a steep dirt road or 5 minutes on foot from Chora. Parking space is limited. Best by foot.

#3 Livadi
East of Tsigouri, just 1,2km south from Chora, Livadi is a sandy beach with deep blue waters and tall tamarisk /salt cedar trees. The cape of Agios Vassilios begins here and offers views of the islands ofIraklia and Ios. There is a seaside taverna here too. Ideal to watch the sunset.
Access: Via car/jeep on dirt road from Chora; or on foot via uphill/downhill 15-minute trek. If you don't like to hike, take the car.

#4 Almyros exquisite beach on the east side with white sand-turquoise water, shady, great for surfers, and ideal for kids because of the shallow water. With a spectacular view of Keros it is the perfect day for relaxing on a non-windy day.
Access: Take a 2.3 km dirt road starting from Chora either on foot or by car/jeep. Beach bar close-by.

More alternative taste and not as kid-friendly are: 

#5 Aligaria Bay, south of Chora, features three beaches: (Aligaria, Aligaria 2 a.k.a Gagavi and Aligaria 3 a.k.a Kampos). Relatively small (the largest is Kampos at 60m wide, 2.3 miles from Chora) they feature coarse sand, rocky surroundings and a limited number of small caves for shade. Popular amongst nature-lovers and couples. Limited shade. Sea bed of small rocks and pebbles, it is not ideal for kids.

#6 Gerolimnionas secluded calm natural landscape. Tiny (just 15m wide) but very pretty beach with coarse sand and turquoise waters in Gerolimionas bay, on the island's west. Especially suitable for nature-lovers and couples, and ideal for spear-gun fishing. No shade. Protected from the summer winds known as meltemi.
Access: To get there, follow the road to Messaria. Shortly before you get there, turn left in a dirt road and then take the first left again. The last 300m of this track are a bit rough for a car, so many choose to do it on foot.

#7 Kavos Michali very small but fabulous with white pebbles right across from Keros island on the east side.
Access: From Lioliou beach follow the small foot path on the right side of the bay, and somewhere in the middle of the cape start walking closer to the water until you reach the small coves. Ideal for nature- lovers and hikers.
Beaches at a glance by category:
Kid-friendly: Tsigouri, Livadi, Almyros, Lioliou, Psili Ammos
Nature lovers: Gerolimionas, Aligaria, Kavos tou Michali, Fikio, Pori, Fountana, Sifneiko
Beaches with food: Tsigouri, Mersini, Livadi, Lioliou
Best beach to enjoy sunset: Tsigouri, Livadi