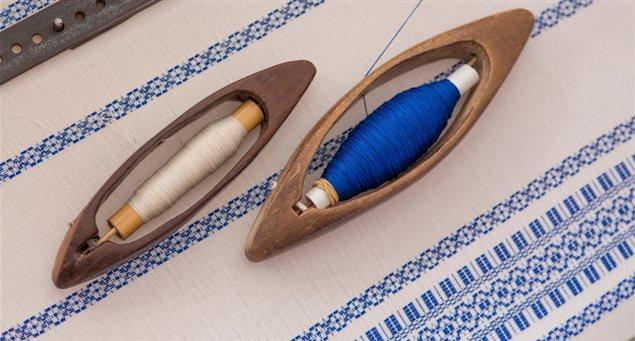 The women on Naxos true and faithful to their cultural heritage are keeping the traditional craft and skill of handmade woven wares, known as yfanta, alive.
Visitors can find these delightful items direct from the women weavers themselves in the mountain villages of Apiranthos, Moni, Chalki and in shops throughout the island.
It is in these villages that the women continue to teach and learn the traditional craft and skill of the loom known as "ergaleio" and the handmade items produced by the wooden apparatus known as "yfanta."
In fact, many homes located in these villages still have a loom somewhere in the house.
"The loom on Naxos is not very big like in other parts of Greece," explains Sofia Agapitou, president of the Women's Cooperative of Traditional Art in Apiranthos. "It's size," she describes, "is about 2 meters in length by about 1 meter in depth."
"Many of them can fit in a corner. I just had one custom made," adds Katerina Sideri, cookbook author from Naxos. "And it looks just like my grandmothers."
In the 18th and 19th centuries, the skill of weaving was prominent in the daily lives of the women and families in Greece.
It was customary for young women to learn the skill from their mothers and pass it on to their daughters and so on.  Many women would weave items for their daughter's dowry. However, most of the items were used for household use and everyday use.
According to tradition, on Naxos, the colors most-widely used for accent and detail are a deep dark red (tou ladiou), dark blue, known as eranio in the local dialect; and some yellow. The complexity of the weave (there are several types) and size of the item is what determines the price.
"Our items begin at 3€ for a small notebook cover and can go up to 1200€-1500€ for a special order wool bedspread," says Sofia Agapitou.
In between are a myriad of more affordable items such as: towels, tablecloths, runners, bed covers, pillows, pillow covers, curtains, cushions, shirts, skirts and dresses for all ages, and other items such as bookmarks, banners, religious items and favors for wedding and baptisms.
In the village of Apiranthos, the women weavers are a dynamic group of women who weave in the winter as to prepare to sell their wares in the summer.
Lessons in the off-peak season (winter and spring) are offered free of charge at the Apiranthos Cultural Center. Their shop, located in the village square across from the church Panagia that features all types of yfanta and custom orders is open from May to October.
Additional traditional handmade woven items may be found in the village of Chalki, Moni and in Chora, Naxos.