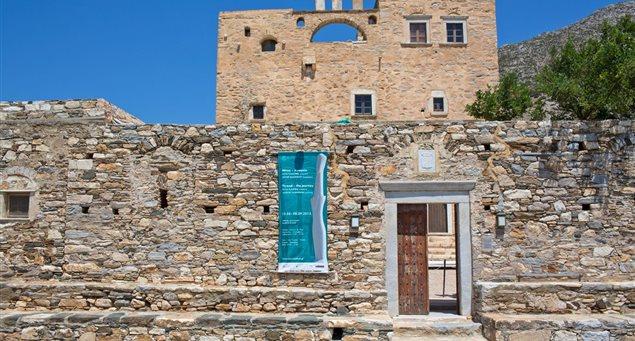 The fortified monastery of Timios Stavros (also known as Bazeos Tower by the name of the family who now own it) in the Agiassos valley, outside the village of Sagri, is one of Naxos's most characteristic monuments.
The name of the nearby village is a corruption of Sainte Croix (French for Holy Cross –or Timios Stavros in Greek).
Built as a fortified monastery around 1600,the Timios Stavros Monastery on Naxos was abandoned by the last group of monks in the early 19th century. In 1834 it became the property of the newly-founded Greek state and for many years it hosted families of potters who lived and worked there.
Around the end of the 19th century the tower was sold by the Greek state to the Bazeos family, whose successive heirs have maintained its ownership until the present day.
Timios Stavros Monastery has been excellently restored and every summer since 2001 it hosts the
Naxos Festival, one of the most important cultural events in the Cyclades, organized by the non-profit organization Aeon.
| | | | |
| --- | --- | --- | --- |
| | July and August, Between 9am and 5pm |   | Entrance fee for exhibitions is €5 |
| | |
| --- | --- |
| Directions for access | Visitors should look out for a road sign along the Chora-Damarionas main route, to the right. |
| Accessibility for wheelchairs | Inaccessible for wheelchairs. |