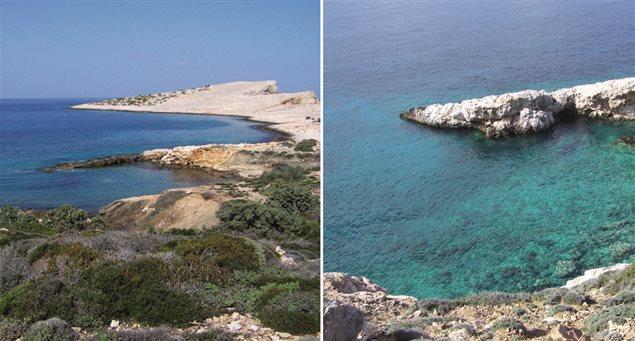 Right: Limni and the Cape of Aspros Kavos; left: Gerogiannis Bay
Trail number 5 is marked with a red/white sign, has a length of 2.1km. and takes about 40 minutes to walk.
This trail starts from the island's main road at the point where it turns towards the waste landfill. On both sides of the road are the remains of the old settlement of Zali.
Exiting the dirt road, the trail passes above the Plakes area and crosses Sykia.
On the left is Gerogiannis bay and you shortly arrive at Limni. After Limni the
route leads to Cape Aspros Kavos –one of the most otherworldly spots in the archipelago. Wander around the all white landscape and enjoy the view to
Donoussa's northern coastline.
Sign: Red-white badge with the number 5
Overall direction: Northwest

Points of interest-views: Old settlement Zali; Plakes; Limni; Cape of Aspros Kavos; Cave of Tichos