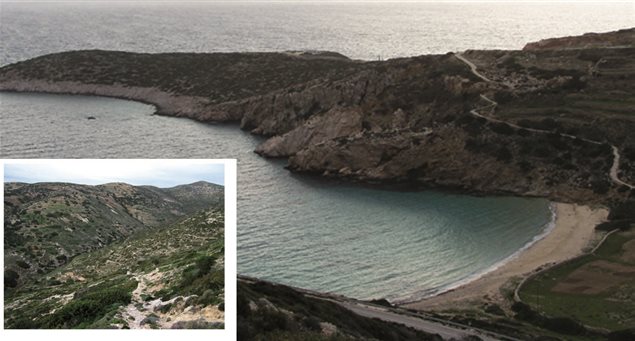 Kedros; Inset: Views of the mines
This trekking route is marked with a red/white sign and number 2, has a length of 1.1km and it takes about half-an-hour to walk it.
The route begins from the main road a little further after the turn into the dirt road that leads to Kedros beach, and ascends in a Z form to the peak of Bitilis.
The peak is susceptible to particularly strong winds and caution is required. The route then unfolds smoothly to the settlements of Ano and Kato Messaria.  The two villages were once particularly densely inhabited, as the area was the  island's "manufacturing" hub, with two windmills milling a mixture of wheat and barley and an iron works.
The end of the trail features a stone staircase that brings you onto the main road of the island from where you can continue to Merssini and Livadi beach.
Sign: Red-white badge with the number 2
Overall direction: East
Points of interest-views: Kedros beach, Ano and Kato Messaria settlements, Pano Milos (windmill)