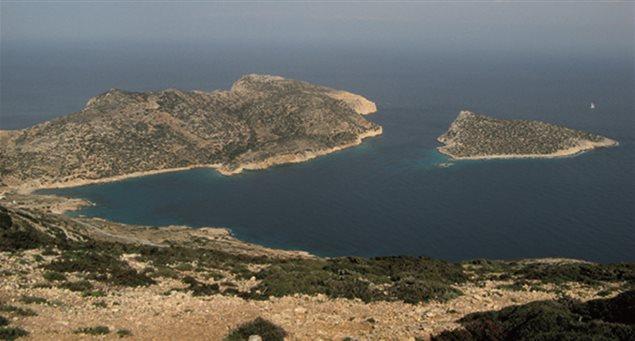 The bay of Kalotaritissa as seen from the top of Mt. Papas.
This trail is marked with a red/white sign and number 1, has a length of 4.4km. and takes about 1h 30min. to walk it.
The trail starts from the main square of Stavros, crosses the entire northern and northwestern side of the island before ending at the picturesque settlement of Kalotaritissa. About halfway along the route follow a leftward course to enjoy the view of the  bay of Xylobatis. Then, after entering a dirt road, you will see on the right, the entrance to the old mines of iron, bauxite, copper and emery.
Toward the end of the trail and before you descend to Kalotaritissa, on your right, is the island's highest peak, Papas, at 385m. An ascent to the top offers some of the most breathtaking views of the Aegean Sea.
The route to the settlement is perhaps the most impressive of the island running along the Ftera ridge, with Papas's vertical slope on the right. The footpath continues after Kalotaritissa and the beach of Vlycho, ending at Trypiti beach, which is named after the cavities of its rocks.
Sign: Red-white badge with the number 1
Overall direction: Northeast
Points of interest – views: Xilobatis; Mines; Mt. Papas peak; Kalotaritissa settlement and beaches: Vlychos, Sapounochoma, Tripiti and islet of Skoulonisi.