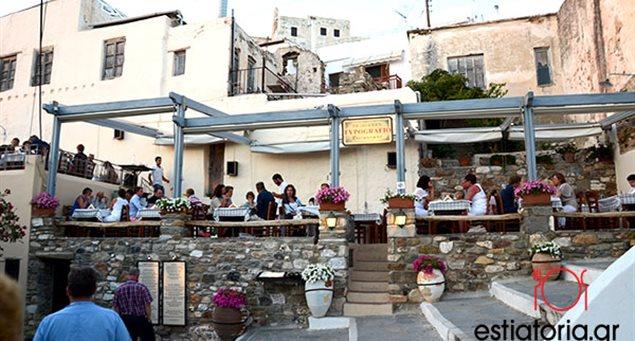 The restaurant "Typografio" serves in three terraces and two yards of a mansion house. Our guests are staring at the beautiful streets of the old market of Naxos, the Historical Castle and the beautiful Cycladic sky while they are enjoying tasteful, modern or traditional dishes.
Our menu combines the best quality fresh Naxian products (meat, fresh seafood, vegetables and dairy products) in a modern interpretation of the Greek Traditional and Mediterranean Cuisine.
The restaurant "Typografio" is the right place for a romantic dinner with a backdrop of picturesque alleys and the Castle area, a business meeting in a calm environment with gentle acoustic music and a family dinner because there is a wide variety of choices in the menu. So if you're looking for good food during your stay on Naxos, Typografio Restaurant is the right place for you.
Chora, Naxos
Tel.: 0030 22850 22375
Fax: 0030 22850 22375
info@typografio.com
http://www.typografio.com/el/restaurant