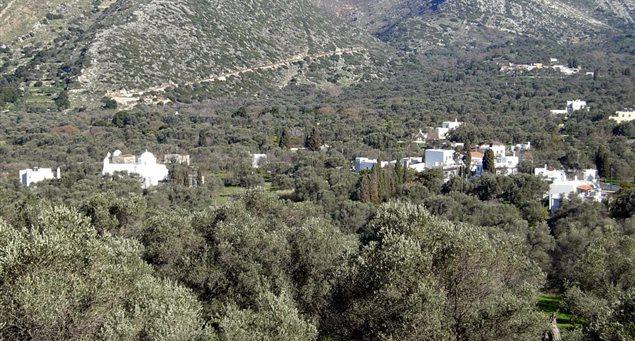 Vourvouria is a small, picturesque village in central Naxos, situated in a fertile area between two small rivers.
According to one version, the name Vourvouria is derived from the word vourla –the reeds that grow in abundance by the rivers.
Until 1950 Vourvouria village was attractive and prosperous, with more than 150 permanent residents, and produced significant quantities of olive oil.
Things are much different today –most houses are abandoned and there are no more than 25 permanent residents, but the village of Vourvouria remains a beautiful settlement.
The oldest written record concerning Vourvouria dates to 1538. The old churches, however, attest that the area was inhabited much earlier. Agios Konstantinos was founded in 1311 and Agia Paraskevi in 1397.
There are also the post-Byzantine church of Agios Georgios (1762), which has been restored, and the village parish, Agios Prokopios, founded around 1809.
The village of Vourvouria is mentioned by the French explorer J.P. de Toumefort, who visited Naxos in the late 17th century. In his work "Isolario dell Atlante Veneto" (Venice 1696), the Italian V. Coronelli makes reference to the village Vurecuria, which historians identify as Vourvouria.
The village also features the ruins of three old olive mills, while at a short distance outside it are the old outdoor laundries next to a well.
The remains of the so-called Arhou tower –in Greek the name implies that of the nobleman– which refers to the Frankish feudal leader Somaripa.
Today, the tower's remains are found in a privately-owned orchard. Most probably, the houses of crofters who worked the Frankish leader's land were built around the tower.
Most likely, they stood as the settlement's nucleus.
The parish church of Agios Prokopios celebrates on July 8 and, according to custom, a litany of the icons takes place around the alleyways under the sound of the bells.
| | |
| --- | --- |
| Directions for access | Vourvouria is 15km from Chora and is connected with the central road network. The roads to Chalki, Damarionas and Filoti also pass from here. |
| Parking | Parking available. |
| Public transport info | Accessible by private and public transportation. |