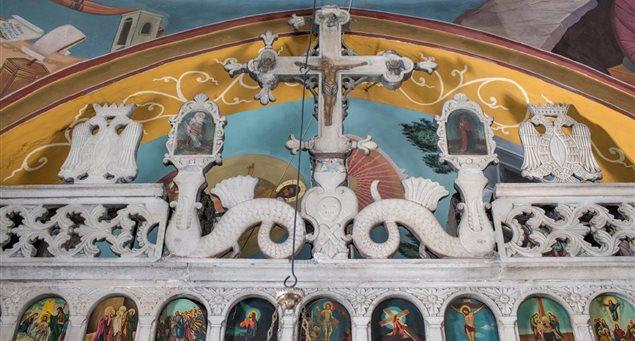 Agia Marina is the main church in Koronos village on Naxos. The older of the two aisles, built before 1200, was dedicated to Agios Ioannis (St. John) and the later one, dating to the 16th century, to Agia Marina.
The church, which features a marble iconostatis and a slate floor with a double-headed eagle dated 1804, was renovated in 1747, as inscribed on the lintel above the main entrance. A women's loft, a slate roof, the marble bleachers and the cistern were constructed in the 1950's.
The three "sweet-sounding" bells –as the locals call them- are foot-operated. The courtyard features an age-old plane tree, the marble bleachers, a water fountain and benches which make an ideal stop for a rest.
On Agia Marina Day, on July 17, church icons are paraded around the village after mass and a big feast follows, lasting until the early morning hours of the following day.
| | | | |
| --- | --- | --- | --- |
| | During the day | | Koronos |
| | 22850 51519 | | Free |
| | |
| --- | --- |
| Directions for access | The island's main road network connects Koronos with Chora, 28km away. |
| Parking | There are three parking lots. |
| Public transport info | There is regular bus service. |
| Accessibility for wheelchairs | Accessible for wheelchairs. |