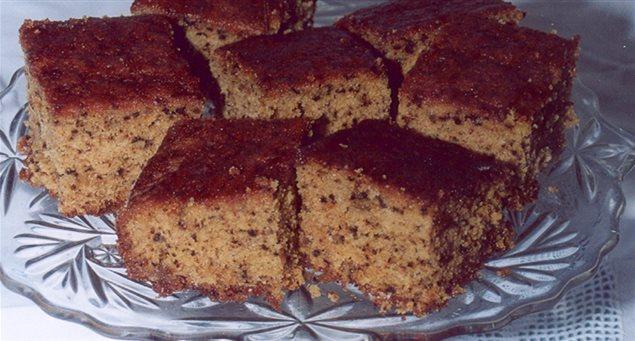 Ingredients
20 eggs
250 gr breadcrumbs or crushed rusk
640 gr ground walnuts
600 gr sugar
1 tbsp ground cinnamon
1 grated nutmeg
½ cup cognac
1 tsp baking powder
1 tsp baking soda
1 tbsp flour
For the syrup:
600 gr sugar
2 cups water
1 tbsp lemon juice
DirectionsBeat the egg whites into a stiff meringue. Next, beat the yolks with the sugar, adding the cinnamon, nutmeg, baking powder, baking soda (diluted in the cognac) and the walnuts, which you have mixed with the flour and crushed rusk. When the mixture is of an even consistency, gently fold in the meringue by hand.
Grease and lightly flour a medium-sized flat cake tin. Pour in the mixture and bake in a pre-heated medium oven for around 45 minutes until golden brown.
In the meantime, prepare the syrup by boiling the water and sugar for 5 minutes and then adding the lemon juice. Let the syrup cool before pouring over the cake once it comes out of the oven.