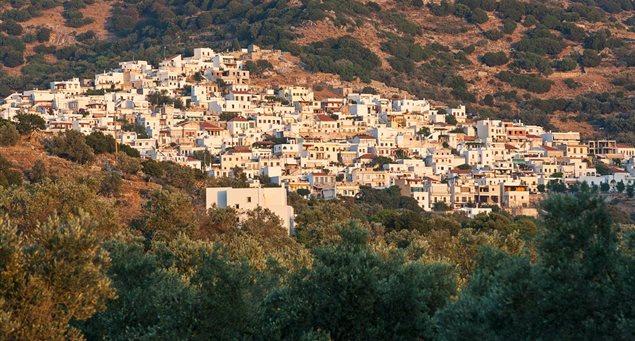 Economically and culturally vibrant, the village of Filoti is the largest of all Naxian villages. Set amphitheatrically on the slopes of two hills at the foot of Mount Zas, it is virtually surrounded by impressive summits which leave two openings, one headed west to Tragea, the other south to the local livestock farms. Roughly 60,000 sheep are reared in this area.
The village of Filoti, whose name hails from ancient times and is thought to be of Ionian origin, is comprised of three smaller settlements, Rachidi, Klefaro, and Liiri, with a total population of 1,800 who cherish their hometown and traditions.
Filoti's liveliness and cultural richness is made evident upon entry to the village while headed for its main square.
Cultural venues and sights stand on both sides of the road, including an ancient-styled sports and entertainment theater, a war-heroes' cenotaph, and the Filoti Association Cultural Center which houses a library, cinema and a reading club.
The village's main square, Gefyra, is surrounded by cafes, traditional eateries offering mezedes (small dish varieties), restaurants and  a variety of retail outlets. An imposing plane tree dominates the square's center.
The stone-paved road left of the square leads to one of the village's two neighborhoods, Klefaros. The lovely Panagia (Virgin Mary) Filotitissa church is located here, while the Barozzi Tower, an imposing vestige of the island's lengthy period of Frankish rule, stands tall a little further down the road.
A marble tap accompanied by a marble wall inscription, next to the tower, dates back to the times of King Othon (first king of modern Greece who reigned between 1832-62). The uphill route south of the tower leads to the village's other main neighborhood, Rachidi.
Other worthwhile village sights include the Greek Numismatic Collection Museum of Nikolas Moustakis,housed at a well set-up space by the main road.
Interesting sights in Filoti's surrounding area include the Arion fountain, Zas cave –located at the mountain's slope, Chimarros tower on the road to Kalantos, as well as numerous Byzantine chapels.
Popular traditions, including the ancient customs of Chirosfagia, Klydonas and Plitheri, remain very much alive at Filoti.
The village also hosts the island's biggest traditional feast, with dancing to the sounds of local violins –a three-day event starting August 15 when the Church of Panagia Filotitissa honors the Assumption of the Virgin. 

Filoti village is well-known for the excellent quality of its livestock products, such as lamb and goat's meat, a variety of cheese products (kefalotyri, anthotyro, xinotyro, arseniko, myzithra), while a woman's cooperative is reputed for the sweet preserves (glyka koutaliou) it produces and sells.
When on vacation on Naxos, visit Filoti village and enjoy contemporary village life.
| | |
| --- | --- |
| Directions for access | Filoti is located 18km from main town Chora and is connected to the island's main road network. |
| Parking  | Parking space is available. |
| Public transport info | Public transportation runs on a regular basis |