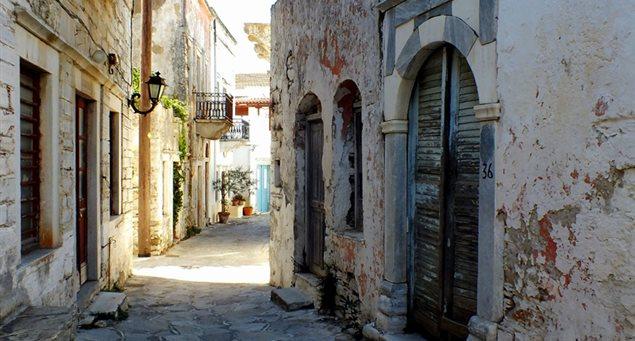 Heading for the Tragea valley from Naxos port the visitor is struck by the change in scenery.
The vast blue expanse of the sea, the sandy beaches and the dry Cycladic landscape suddenly give way to a lush valley: age-old olive, plane and oak trees, vines and fruit groves surrounded by towering summits –a landscape reminiscent of mainland Greece and dotted by eight beautiful villages.
Chalki, the head village, is the most alluring of them all.
Tradition has it that its name derives from a family of bronze smiths that were settled here by the Venetian rulers (chalkos=bronze).
Thanks to its position at the center of the island's road network, the village of Chalki thrived and prospered as the commercial hub of the entire Naxos uplands district up until a few decades ago.
This is no longer the case but the wonderful neoclassical mansions with the large balconies, the adorned roofs and the paved courtyards bear witness to past prosperity. Its noteworthy sights –on a par with the village as a whole- include the Church of Panagia Protothroni, which has been in uninterrupted service since 1052, the imposing, 17th century Barozzi Tower and the pretty mansion housing the historic Vallindras distillery, which has pioneered the renowned citron liqueur.
New facilities have made the place even more attractive for visitors in recent years, including an art gallery, an excellent restaurant and an inviting snack bar-café at the square.
In terms of archaeological interest, the broader area of the Tragea valley has been described as the "Mystras of the Aegean," after the medieval Byzantine citadel in the SE Peloponnese. The vast olive grove is dotted by some 30 important Byzantine churches with rare frescoes, inscriptions and sculptures.
The most prominent of these are Panagia Drossiani, Agios Georgios Diassoritis, Panagia Damiotissa, Agios Ioannis at Kerami and Agii Apostoli at Metochi.