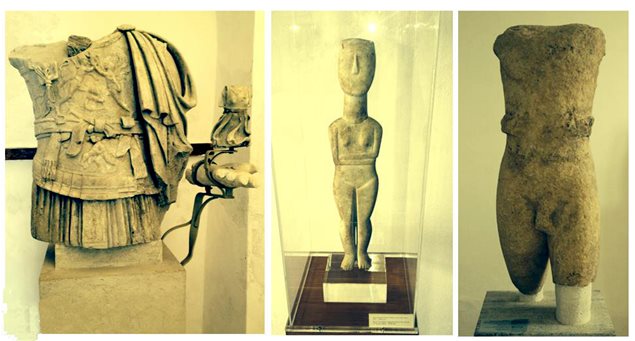 The next time you're taking a walk through Naxos's picturesque and historic Old Town make it a point to spend a little bit of time at this gem of a museum.
Take the time to spend an hour or two at the Archaeological Museum of Naxos (tel. +30 22850 22725) and go back thousands of centuries by viewing items and artifacts left behind from civilizations that lived on Naxos  and nearby islands from as far back as the late Neolithic period to Early Christian times.
The Archaeological museum itself, declared an historical monument, is part of the Naxos's interesting and varied history.
Housed in a building that is part of the Venetian Castle, or, as is known on the island as "inside the walls" of the Kastro district, the Archaeological museum is testament to the continued utilization of the castle.
In fact, before it housed the museum, the five-story building — originally built during the island's Frankish period (1600-1800) — was designed to house a school of Jesuits (17th century). It ultimately, in the 19th century, became a highly esteemed commercial school that Greek author Nikos Kazantzakis attended for a year as a teenager.
Today, the Archaeological museum – divided into seven halls and terrace — boasts a collection of items and artifacts from the many and significant excavations that have taken place on Naxos and nearby Cycladic islands.
The Archaeological museum's collection includes specimens of Proto-Cycladic marble idols, ceramic finds belonging to the late Mycenaean era, funerary offerings made of gold, silver and copper, glass objects of the Roman period, parts of statues and sarcophagi, as well as bronze weapons and tools.
The collections of Early Cycladic marble figurines is second to only to that of the National Archaeological Museum in Athens, and there are also some very fine collections of vases dating from the Mycenaean (late 2nd millennium BC) and Geometric periods (9th – 8th c. B.C.).
The first floor has an impressive collection of archaic statues of male and female figures (Kouros, Kore) as well as sculptures from the Roman period from the 6th century B.C.
Don't miss: 
The Early Cycladic figurine from the island of Keros (2800-2300 B.C)
The marble statue of "Antonius, the Roman General" excavated from Iria in 1986; (6th cent. B.C.)
The mosaic floor depicting a half-naked woman riding a sea monster exhibited on the roof of the building
Archaic statues of Kouros and Kore (6th century B.C.)
Geometric Crater from the settlement on Donoussa (9th century BC)
The exhibits of the museum are divided as follows:
Section I: Archaic Sculpture (6th century B.C.)
Section II: Hellenistic Grave Stelai
Section III: Sculptures from the Roman period (6th century B.C.)
Section
Section IV: Early Cycladic-Mycenaean Period (3200-1100 BC)
Section V-VI: Geometric Period
Section VII-IX-Sculptures, Pottery and Miniature works of Art-Archaic Roman Period
Section X: Grave Stelai, Wall Paintings from the Roman House (3rd cent. AD)
Additional items on display include:

Pottery and terracotta figurines
Bronze sword from the chamber tomb A at Kamini
(Swords of this type were very common in the Aegean during the Late Mycenaean period -1200-1100 B.C.)
Early Cycladic marble figurines and vases (3rd mill. B.C.)
Early Cycladic figurines from the mainland of Naxos (2800-2300 B.C.)
Pottery and marble figurines at Sagri and Akrotiri (3rd mill. B.C.)
Finds from the Early Cycladic cemetery at Aplomata (3rd mill. B.C.)
Early Cycladic marble vases (3rd mill. B.C.)
Glass vases from the Roman Period (1st cent. B.C. – 2nd cent. A.D.)
Open: Daily (except Mondays) 8:30-15:00 (tel. +30 22850 22725)