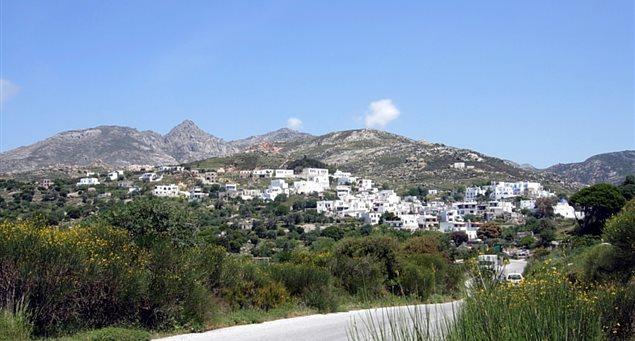 In the Naxos uplands, about 15km east of main town Chora, the village of Kynidaros carries a rich and tumultuous past, as well as vibrant musical tradition, as highlighted by the numerous events staged here, possibly more frequently than in any other village of Naxos.
Kynidaros sits on a rocky hillside, 400m above sea level, next to the island's marble quarry, and is surrounded by olive, plane and oak trees.
According to tradition, a merciless pirate invasion dated around the 15th century prompted the village's few survivors to relocate to its present spot, further inland, for greater security. The village's original position, Kioura, was in the picturesque valley of Chalandra –the starting point of the ancient aqueduct of Lygdamis in the 6th century BC.
The remains of the ancient village and its dilapidated Byzantine churches, Agios Dimitrios and Agios Artemios, can still be seen in the valley.
The main sources of income of the village's present day population, numbering approximately 400, are the nearby marble quarries, agriculture and livestock farming. Work aside, music and dance holds a special spot in the hearts of locals, so much so that it is commonly said that the people of Kynidaros learn to dance before they walk!
Summer evenings are regularly filled with the sounds of traditional musicians at village tavernas.
This village's musical inclination is highlighted by the local origins of the Konitopoulos family –a prevalent force in island folk music for many years.
The parish church of Agios Georgios celebrates and stages a traditional feast in the spring (the date varies depending on Greek Orthodox Easter dates).
The village's other main traditional celebration dates are: July 26 (Agia Paraskevi); October 20 (Agios Artemios); December 6 (Agios Nikolaos); and May 5 (Agia Irini).
| | |
| --- | --- |
| Directions for access | Kynidaros is connected via the island's main road network with the main town, Chora. One can also access most other villages via Moni, Keramoti and Eggares. |