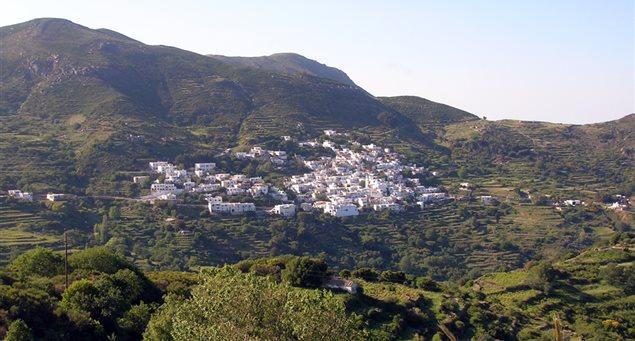 Komiaki is the northernmost village of Naxos. Built in amphitheatric fashion on the ridge of Mt. Koronos and surrounded by orchards and grapevines, it overlooks the Icarian Sea, although it is not visible from the coastal areas of Naxos.
The area was inhabited in prehistoric times, as indicated by the existence of a Mycenean domed tomb and by its name which is derived from the ancient settlement of Komi.
The Frankish fort in the center of the village and the fact that its name Komiaki is found in documents dating to 1537, also indicate that life in the area continued without interruption during the Frankish and Ottoman occupations.
Today the village of Komiaki has some 500 inhabitants, mostly occupied with livestock farming, agriculture and tourism.
The sights include the post-Byzantine Church of Theoskepasti, in the center of the settlement, and the nearby restored buildings of the watermill, the olive mill and the traditional wine press.
The village has coffee-shops and tavernas serving local dishes and the highly-rated Komiaki wine.
The parish church of the Nativity of Virgin Mary celebrates on September 8 with a two-day feast.
Among local customs is the Easter custom of the Swing (Kounia), where the boys set up the swings for the girls and recite improvised poems to them.
| | |
| --- | --- |
| Directions for access  | Komiaki is on the main road from Chora to Apollonas via Eggares. |
| Parking  | Parking space available. |
| Public transport info  | Public transport with several connections daily. |