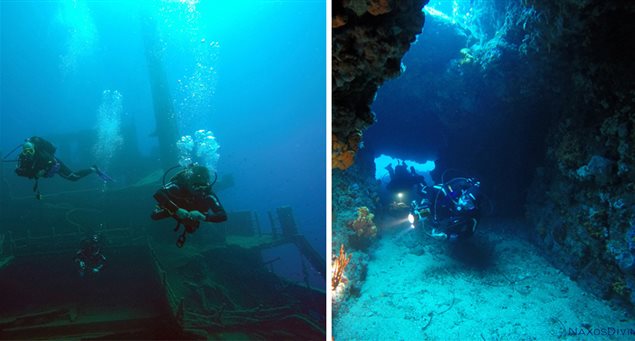 Naxos Diving, a PADI Scuba diving, Technical deep diving and Free Diving training centre on Naxos Island, is located 20 km from downtown Naxos, in the area known as Kampos, Komiakis.
The first diving centre to have opened on Naxos, it offers a variety of beginner and advanced PADI diving courses and certifications in the sectors of  Recreational, Technical and Free diving. Private lessons and semi-private lessons are also offered. Rental equipment is available for certified divers.
The wreck dives, cavern dives, deep dives — as well as guided snorkeling — take place in locations in the area around Naxos, Paros and the islands of the Small Cyclades and features sites such as underwater shipwrecks, airplanes, canyons, reefs and a variety of flora and sea species native to region.

The courses offered include:
Scuba Diving Courses
PADI Bubblemaker – For children ages 8 and over
PADI Discover Scuba
PADI Scuba Diver
PADI Open Water Diver Course
PADI Adventures in Diving
PADI Advanced Diver
PADI Rescue Diver
EFR (Emergency First Respond) Primary & Secondary Care
PADI Master Scuba Diver
PADI Divemaster
PADI Assistant Instructor
PADI Specialities
Boat Diver
Deep Diver
EANx Diver
Digital Underwater Photographer
Peak Performance Buoyancy
Night Diver
Cavern Diver
Wreck Diver
Search and Discovery Diver
Underwater navigator
Equipment Specialist
Dry Suit Diver
PADI Free Diver
Project-Aware (a project on how to protect the underwater kingdom).
TEC Courses
Scuba Review refresher courses