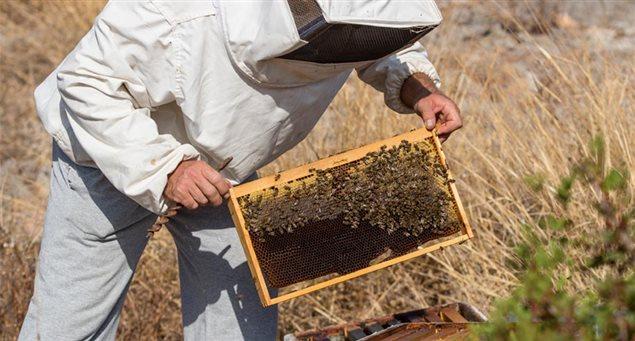 Antonios Vlavianos is obsessed with his bees.  He can spend hours watching and talking about them. "They are fascinating to observe," he says. "They are like my children."
Antonio is a beekeeper and a fisherman who lives with his family on Iraklia after moving back to the island from Athens in 1992.
Like many islanders, he works with the land, farming, fishing and making honey, albeit small amounts that will disappear by August.
The honey on Iraklia, according to Vlaviano, is unlike any other in that it is 90% thyme honey. "I sent it to the lab in Thessoloniki to have it analysed," he says, "and they too were surprised at its uniqueness," he says proudly.
The honey makers are dependent on the winter and spring rains so that the there will be thyme for the bees to eat on Iraklia.
May, June and July is when all the work has to be done by the bees. In August is when the honey becomes available. It is usually sold out by the end of August.
So if you are on Iraklia in August, do seek out the honey as quantities are limited.