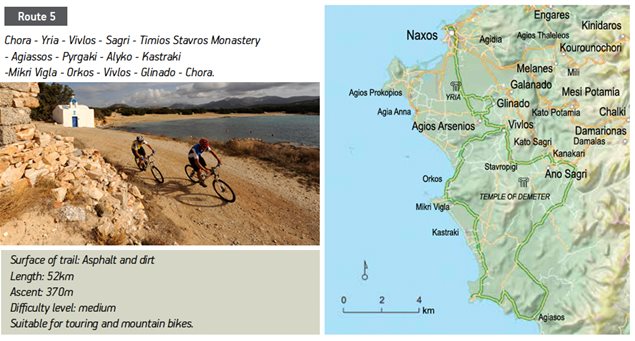 Route: Chora – Yria – Vivlos – Sagri – Bazeos Tower – Agiassos – Pyrgaki – Alyko – Kastraki – Mikri Vigla – Orkos – Vivlos – Glinado – Chora
From Chora, head for the archaeological site of Yria through the fields of the plain of Livadi. Entrance is free.
Continue in a southerly direction, pass by the cheese-making facility, leave Agios Arsenios on your right and ascend to the main road.
Traverse Vivlos village, with its old windmills, and continue in a southerly direction to the crossroads for Sagri on the left.
An attractive downhill stretch brings you to the valley of Sagri, with the old monastery of Agios Eleftherios. Outside the village, take a right turn on the main road towards the bay of Agiassos. At the beginning of an 8km downhill is Bazeos Tower, which merits a visit for the good views and the coolness it offers.
At Agiassos enjoy the beach and the view of the Small Cyclades islands, and continue west along the southwestern coast towards Pyrgaki. Follow the dirt road towards Alyko beach –ideal for a swim when northerly winds blow.
Follow the asphalt road on the left and you come to the remains of a huge hotel complex at the tip of Cape Kouroupia. Return on the same road, which has minimal traffic, in a northerly direction.
A detour for the Glyfada salt pan and the long beach is recommended. Two kilometers on, turn left into theroad for Mikri Vigla and cross an area with fields to arrive at the beach again.
The route continues through an area with fields, passing by the charming bay of Orkos. At the crossroads for Plaka beach take the uphill road to Vivlos. The majestic view of the coastline compensates for the short but difficult ascent. From Vivlos descend through Glinado to Chora.