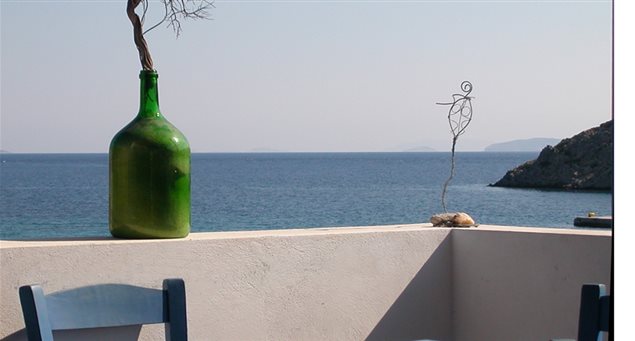 The colorful little fishing boats along Iraklia's picturesque port welcoming visitors upon their arrival is a snapshot view of what's to come: simple, traditional Greek island elegance. … with wifi …!
Dishes are Greek and delicious, the ouzo and méze a must, and the local wine ever-present on every menu. If you're lucky, and visiting the island in August, you may even get to taste the Iraklian honey, a 90% thyme variety and rarity.
The tavernas, snack-bar-cafés and bars are mostly found in and around Agios Georgios, the small port town, with additional spots to eat and drink on the beach in nearby Livadi and Panagia in the center of the island.
In Agios Georgios: Open all day and in the evening, year-round, Maistrali Restaurant serves Mediterranean and Greek cuisine with a variety of local wines and ouzo to accompany their seafood and local specialties.
To Perasma snack bar-créperie, open after the Greek Orthodox Easter holiday, serves sandwiches, ice cream, coffee and other light fare.
Spring also brings Syrma taverna serving Mediterranean and Greek cuisine, raki and homemade rakomelo(raki with honey).
Overlooking the picturesque harbor, To Gialiri taverna serves everything Greek, while the ouzeri-café-bar, To Ypovrichio and the restaurant-café-bar Perigiali serves fish and not only.
To Pefko taverna has charcoal grilled meats. All the tavernas serve the local Iraklia or Schinoussa fava (chick pea puree) variety. Drinks-only are to be enjoyed at Bar-Aki, whereas, pizza lovers head to Aioloscafeteria-pizzeria.
In Panagia: Open all day and in the evening, year-round, To Steki, is a taverna that is known for its Greek and local dishes.
At Livadi: Pera Panta is restaurant-café-bar on the beach that begins by serving breakfast and coffees in the morning, lunch and méze midday and drinks with music into the night.