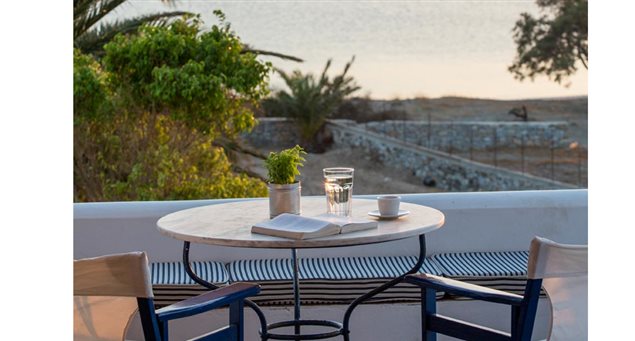 On Schinoussa — like the overall vibe of the island — the accommodations are not over the top, but rather just right.
Most of the places to stay are housed in traditional white cubed Cycladic complexes of studios and apartments. Most offer views to the sea, private balconies, basic facilities and amenities and breakfast made with local products.
On Schinoussa the majority of accommodations are located in town, in Chora, and range from about €30 to €75 per night (depending on the season).
Additional rooms, studios and suites, some a bit more expensive, (€50-€120 range) are located near at the port of Merssini, the beaches of Tsigouri, Livadi, Lioliou, and in the village settlement of Messaria. Some hotels/studios offer free transport to the beach –via mini bus — daily.
The luxury factor when staying on Schinoussa is that anywhere you choose to stay, it is likely you will have fantastic views to the sea and the luxury yachts and sailboats that frequent its sparkling clear waters; crystal clear waters that are usually just a few steps away…
And all for a reasonable price.