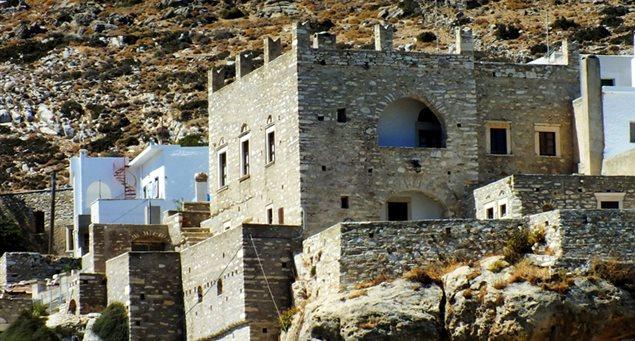 Zevgoli Tower on Naxos, a two-storey Venetian-era stone structure that has been renovated and is now inhabited, is located close to the center of Apiranthos. 
This impressive monument, built on a rock at the village entrance in the 17th century, was originally owned by the Castri family, then by the Sommaripa family.
The ancestors of the present owners acquired it immediately following the Greek Revolution in 1821. As was also the case with the Barozzi Tower in Filoti, this tower served as a residence for feudal lords of the period.
Zevgoli tower features Aegean-style arches and many verandas and balconies which are well worth going up to for the view on offer.
| | |
| --- | --- |
| Info | The tower is privately owned and inhabited, mainly during the summer season. Visitors are permitted to access the verandas as well as the interior when the owners are present. |
| Parking | Parking space is available by the village entrance. |
| Public transport info | Public transport runs from Chora, Naxos's main town. Routes are more frequent during the summer months. |
| Accessibility for wheelchairs | Inaccessible for wheelchairs. |