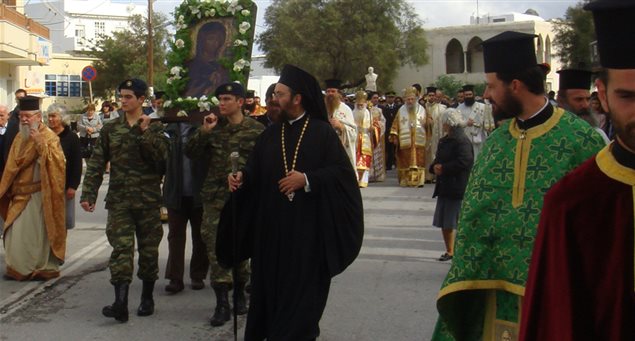 The important holiday of Isodia Theotokou (Entrance of Virgin Mary into the Temple) is celebrated in splendor and with the attendance of large crowds at the Church of Panagia Chryssopolitissa — Chora's patron saint — and then at the Cathedral of Zoodochos Pigi on November 21.
Events start on the eve with the litany of the icon of Panagia Chryssopolitissa from the Cathedral where it is kept.
The procession ends at the celebrating church, where a series of services is Celebration of Chryssopolitissa at Chora performed until the early morning hours, beginning with splendid vespers officiated by the local bishop.
After vespers, in observance of a very old custom, the inhabitants in the neighborhood of the church offer pilgrims loukoumi sweets and raki spirit.
Early on November 21, the icon of Panagia Chryssopolitissa is taken in a procession back to the Cathedral for the service proper.
After the end of service a litany of the icon follows around the streets of the town.