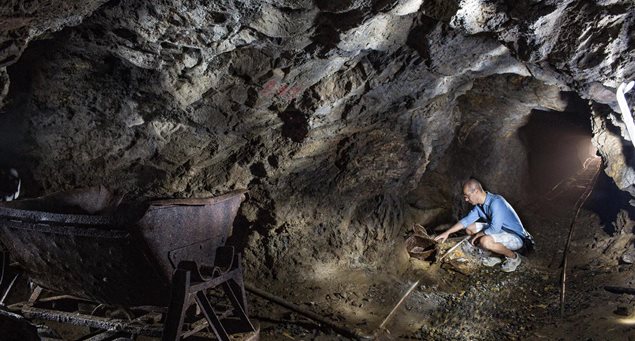 An area of some 250 acres on the slopes of Mt. Amomaxis, in the northeastern part of Naxos, is dotted with hundreds of small emery (smyrida in Greek) mines which date from the Bronze Age to the present.
The economy of the villages in the area (Smyridochoria) was for long dependent on the operation of the mines and the stories and legends still heard here about the hardships and hazards the miners faced are countless.
The Smyridochoria are Apiranthos, Danakos, Keramoti, Skado, Messi but particularly Koronos, whose inhabitants continue to own most allotments in the deposits.
About 50 mines have been operating in recent years, featuring narrow entry points and labyrinthine galleries.
Their depths reach up to 600 meters.
They are variously named after family nicknames (Barouxades, Glezides), place names in the area (Kastelaki, Spilios), wars or battles (including Korea and Vietnam), chapels (Agios Spyridonas), the size of the mine (Pelorio=huge), the number of workers (Sarantara –derived from the number 40) or foreign countries (Americana, Abyssinia).
| | |
| --- | --- |
| Info | It is not advisable to enter the galleries unaccompanied by a local who will be more familiar with the pitfalls. To make a prior arrangement, call Manolis Manolas at 6944607672. |
| Directions for access | The entry points of the galleries and the installations are visible along the entire length of the road between Koronos and Lionas. |