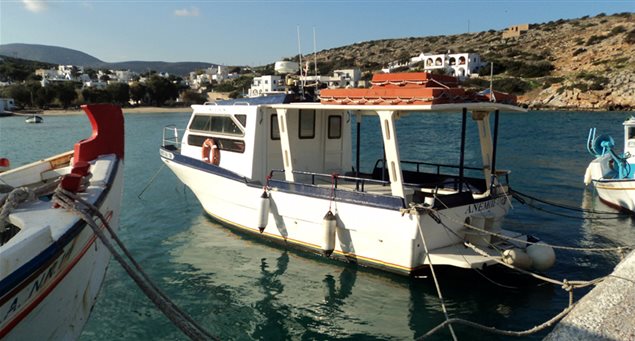 Unique to the Greek isles are the network of local ferry and passenger boats, sea "buses" or colorful and traditional fishing (caique) motorboats known as kaiki, lantzia or water/sea taxis/buses. On Iraklia, the sea bus Anemos docked at the main port of Agios Georgios, heads southeast taking visitors on a day cruise …
Some larger than others, they offer the opportunity for guests to visit remote and spectacular beaches.
Of course, it is best to check with the local travel agent or concierge/reception to confirm departure/pickup dates, times and weather conditions. And note, that timetables and local itineraries are always subject to what the weather permits.
On Iraklia, the sea bus/taxi Anemos docked at the main port of Agios Georgios, heads southeast taking visitors on a day cruise half way around the island with destination swim stops at the hard-to-get-to-on-foot beaches of Karvounolakos and Alimia (south).
Highlights along the way are the beach of Livadi (with its resident sea turtle Yiannis and views of the remains of the castle from the Hellenistic period) and closeup of the islet Venetiko.
Heading south towards Merichas Bay are the imposing cliffs and rock formations, nesting spots for various birds and an area that produces capers, too.
Above is Mt. Papas, the island's highest peak, while below are two the bay's sandy beaches. Continuing south is the Seal Cave (Fokiospilia) offering the chance – if your lucky – to spot a seal or two.  Kokkinos Molos (red rock) and Mavros Molos (black rock) are just two more geological wonders of Iraklia.  Next up, and nearing the final destinations, are the beaches Karvounolakos and Alimia.
The former boasts a spectrum of sea colors: green, gold and red amidst a backdrop of white-pebbled beach; while the latter a 9metre-in-depth WW2 warplane shipwreck. Both are sure to be appreciated by snorkelers for their underwater seascape and surrounding rock topography.
Upon special popular request weather permitting, Anemos may tour the entire island.
The boat leaves from the port of Agios Georgios. May to September. The boat usually leaves at around 10.30 a.m. and arrives back at 5.00 p.m.