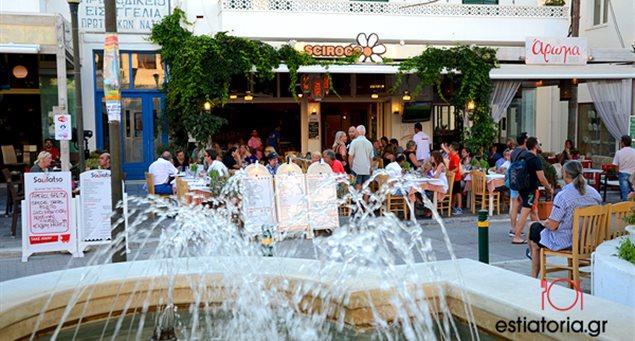 Scirocco – The family restaurant – Naxos, Greece
«Scirocco»… the international name of the southeast wind – in Greece we call it «soroko» or «sorokada»!!!
Scirocco opened its doors on March 24, 1995, right here in this square, after the two brothers Nikos and Michalis
(who until then had only fantasised of their own place while working as barmen on the island) were able to convince their mother, Katerina, to take on the most difficult task in this arrangement… the kitchen!
During these years certain words have become synonymous with Scirocco… family, friendly, honest, clean, Mediterranean, homely, genuine, traditional, value for money, cheerful, warm, quality service.
A restaurant founded in the dreams and enthusiasm of two young people who still today want simply to offer honest food and enjoyment to their customers… purely by doing what they love…!
This is who we are and we thank you for choosing to dine with us!
Bon appetit!
Nikos and Michalis Roussos
From April until end of October
From 9.00 in the morning until late at night
Chora, Naxos
Tel.: +30 22850 25931, +30 6944 423613
info@scirocco-naxos.gr
http://www.scirocco-naxos.gr