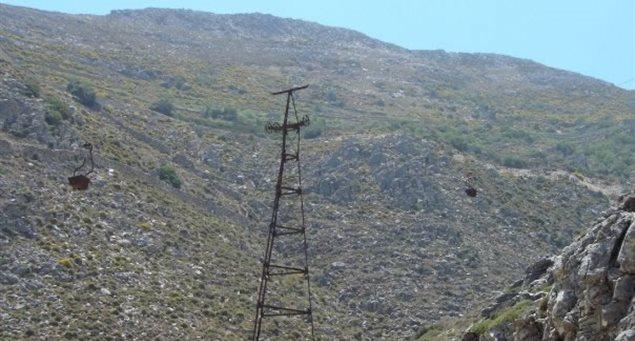 Koronos – Tihio – Kalamafka – Avdelli (Panagia Avdeliotissa) – Lionas
From Platsa (square) and the old district of Kato Gitonia (lower neighborhood), the route begins to the port of Koronos, Lionas. The hiker is directed to exit from the east, at the position of "Choirotrypi".
Moving towards the deep wooded ravine the traveler comes upon the stone bridge at "Tihio". The paved path for a while crosses the opposite slope, at the steep and rugged landscape of Koronos rural countryside. In continuation it passes through a second arched bridge and converts to a rural road.
Directly on the path and the location of "Aletroxylo", the hiker encounters an organized and permanently inhabited "mazomo" (livestock facility).
Leaving behind a third stunning bridge at the location "Kolos tou Vounou" the hike becomes uphill, again on a neat paved path along the northern mountainside.
From the elevation of Kalamafka, the view of the valley and emery mines in the region is panoramic.
In the area of ​​Avdelas, the route continues on a rural road. The next stop is the picturesque and well kept chapel of Our Lady Avdeliotissas.
The last part of the course continues on a path, which ends on the north side of Lionas coast. The remains of the emery loading and shipping facilities still exist at the small settlement with the pebbly beach.