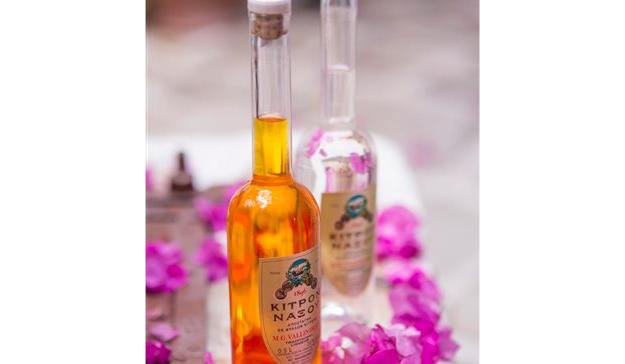 The Vallindras distillery, which has pioneered Naxos' renowned citron liqueur –one of three Greek aperitifs marketed with a Protected Designation of Origin- is definitely worth a visit.
It all began in the second half of the 19th century, when Grigorios Vallindras founded a workshop for producing the traditionally local citron-flavored spirit (kitrorako) –already in common use.
In 1896, his son, Markos, decided to develop the business, creating a new distillate with alcohol and citron leaves –the citron liqueur we know today.
He exported the spirit to many places abroad which had thriving Greek communities (Russia, USA, Egypt, Asia Minor), took part in many Greek and international fairs and won many awards and distinctions (including gold medals in Marseilles in 1904, Bordeaux in 1907, Athens in 1903 and 1914 and Thessaloniki in 1936).
The fifth generation of the Vallindras family continues to produce the same excellent aperitif in Chalki today.
Demand has climbed both in Greece and abroad in recent years and so the company has been striving to encourage the cultivation of the citron fruit (Citrus medica) on Naxos, which has been steadily declining.
The production process starts with the collection of citron leaves when they are fully fragrant –that is, from September and possibly throughout the winter. After careful selection to exclude dry and diseased leaves, they are bathed in alcohol in a traditional pot still.
The essential oils of the leaves are dissolved in the alcohol and the distillate gives three basic spirit types: white at 33 degrees, green at 30 degrees and yellow at 36 degrees.
Visitors to the attractive mansion in Chalki on Naxos which continues to house the business today are given guided tours of the facilities – which include equipment dating to 1862 and retro-style ads and posters, hear details of the distillation process and can taste the final product on-site.