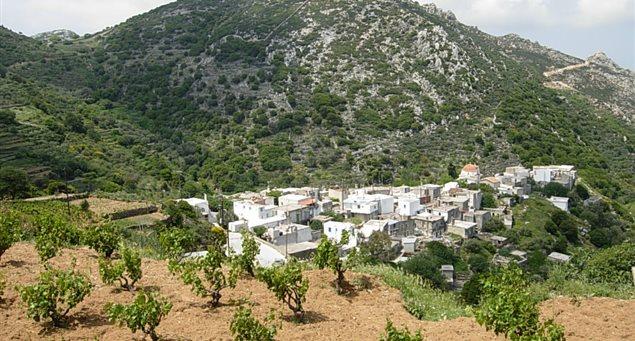 Built deep amid a nature-rich ravine graced by small stone-walled houses and narrow picturesque alleys not accessible to cars, Keramoti is a traditional village in the Naxos uplands, located at Stavros Keramotis –the largest intersection of rural roads on the island.
At this point, a small whitewashed church, dedicated to the Exaltation of the Holy Cross, offers a tremendous view of parts of Naxos's both east and west coasts.
The traditional character of the village is fully preserved. A square, or platsa, as it is referred to by locals, featuring the old village olive mill, lies at the village center.
The square is surrounded by pavements that fill with people during the summer months. The village café-taverna, located just off the square, serves as the meeting point for locals.
A folklore museum whose collection is constantly being enriched operates at the courtyard of the village church, dedicated to Agios Ioannis Theologos (Saint John the Theologian).
A major even for the village is the feast of Stavroproskynissi  (28 days before Easter Sunday) dedicated to the Holy Cross and involving traditional music, dance, local culinary delights and abundant local wine.
The surrounding picturesque area offers plenty to see, including the Routsouna waterfall, the old stone-and-marble bridge over the southern stream, the old outdoor laundries, two watermills and the old water reservoir which collects the water from tributary brooks and then releases it via aqueducts to the vegetable gardens at Perada.
| | |
| --- | --- |
| Directions for access | Keramoti is located approximately 25km from main town Chora and is connected to the island's asphalted main road network. The village is also linked to three rural roads leading to the villages Apiranthos, Koronos, Kynidaros, and Moni –all via the Stavros Keramotis junction. Also, a track connects the village with Eggares. |
| Public transport info | Public transportation runs to and from Keramoti once a day during the summer months. |