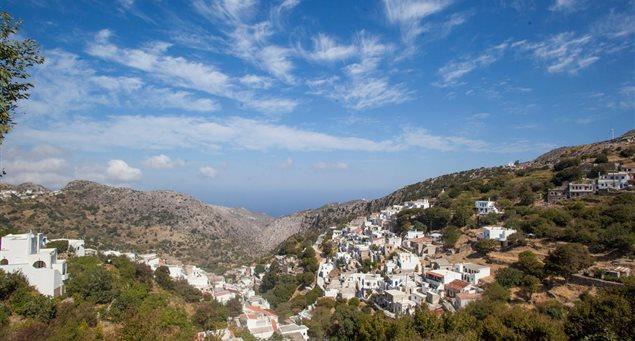 The village of Koronos  is one of the oldest settlements in northeastern Naxos, set in a lush, enchanting spot at 540m above sea level, on the slopes of a ravine between Mt. Amomaxis and Mt. Koronos.
The village of Koronos first appears on written records at about 1200 AD and was one of the 56 municipalities into which Marco Sanudo (1153-1227), the first Venetian Duke of Naxos, divided the island.
The village prospered considerably thanks to the emery mining industry before World War II, when its population numbered about 3,000. During the German occupation, however, when the mines were closed, 414 people died of starvation.
Today, it is one of the island's most picturesque villages. Its pretty houses retain intact the traditional architecture and are divided seven neighborhoods (Anegyrida, Kastro, Livadaki, Kato Gitonia, Pano Gitonia, Platsa and Provolakia) which are connected with picturesque alleyways and countless flights of stairs.
Almost all neighborhoods have their own square and old water fountain. The central square is called the Platsa by the locals.
The tourism infrastructure includes rooms to let, coffee shops, tavernas, traditional product workshops, an eco-museum (where many events are held) and a Folklore Museum –housed in a traditional guesthouse.
| | |
| --- | --- |
| Directions for access  | Koronos is 28km from Chora via the island's main road network. |
| Parking  | There are three parking lots. |
| Public transport info  | There is a regular bus service. |