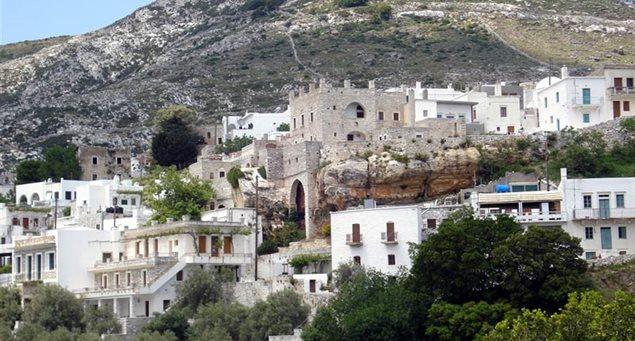 The village of Apiranthos, or t'Aperathou in local dialect, is built at the foot of Mt. Fanari, at 600m above sea level and 28km from main town Chora on Naxos.
Venetian towers, pretty, old two-storey houses, marble paved alleys with arches above them, picturesque squares and the poetic disposition of Apiranthians combine to create a rare atmosphere in the Cycladic islands.
Its inhabitants are considered to have largely come from other areas (e.g. Crete, Asia Minor) and Apiranthos' local language idiom, mores and customs are quite distinct from other Naxos villages.
This small but particularly energetic community has developed while keeping its local color largely unaltered, its Nikos N. Glezos library is the largest in the Cyclades, and it features a few very interesting museums and a women's weaving cooperative.
The entrance to the village features the impressive Zevgolis Tower (17th century), built on a rock. It is also the starting point for a tour of the marble-strewn alleyways, before you end at the square with the cafes.
The Church of Panagia Aperathitissa, built in the 18th century, has an imposing presence in the main street. Apiranthos has a number of very interesting museums.
The Archaeological Museum mainly hosts finds of the Proto-Cycladic period, the Geological Museumfeatures some rare and unique items among its approximately 2,000 exhibits, the Natural History Museumincludes a collection of the area's fauna, flora and a small aquarium, while the Folklore Museum displays traditional fabrics, embroidery and tools. Also, not be missed is the small Aegean Children's Art Museum, which deals with children's relationship with toys and more, from antiquity to modern times.
It is also worth visiting the Church of Agia Kyriaki, which dates to the period of Iconoclasm (9th century) and is one of the most important Christian monuments in the Balkans.
| | |
| --- | --- |
| Directions for access | A regular bus service connects Apiranthos with Chora, via Galanado, Chalki and Filoti. More info may be obtained at the KTEL terminal in Chora, tel. 2285022291. |
| Parking | There are two main parking areas in the village, at Panagia (opposite the cemetery) and at Psarri Plaka, as well as two minor ones. |